A Tribute to Gurney the Gateway Rubber Chicken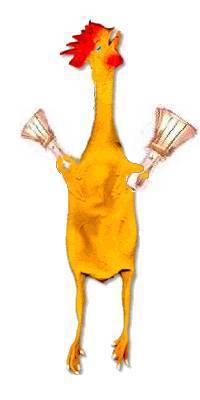 Gurney the Gateway Rubber Chicken first appeared with the group as a guest dancer for "Serenade to a Picket Fence", after hearing about the group from some stuffed friends who made an appearance during "The Lion Sleeps Tonight". He came to the handbell world with experiences unlike any other rubber chicken. Prior to joining Gateway, Gurney earned a living by chiming the "door opening" bells at a novelty shop in Surestop, Oklahoma, and also rang the dinner bell at the local rubber chicken farm. After a brief stint as a greeter at a Walmart in Springfield, MO, Gurney moved to the St. Louis area, where he made his Gateway connections. In addition to his appearances with Gateway, Gurney is credited with inventing the only 4-in-wing (that's 8 altogether!) handbell maneuver, now known throughout the handbell world as the "Gurney".
Gurney retired a few years ago, and now enjoys a quite corner in Don's basement. Being ever the party animal, he did come out of retirement briefly for Gateway's 10th anniversary bash, and even hoofed it up to "Pick a Winner", thrilling the audience, and crowing away with that sound that can only be described as "somebody puh-leeze get that chicken an asthma inhaler!" Gurney has always been the quintessential environmentalist, and hopes to someday be recycled into a bag of party balloons.