Gateway Musicians
Dr. Cathy Benton, Director
Cathy Benton is Professor of Music at Missouri Baptist University in St. Louis, Missouri where she teaches piano and class piano in addition to directing the MBU Ringers. Dr. Benton performs as a soloist and accompanist on the piano, organ and harpsichord and has been an adjudicator and clinician for numerous keyboard festivals and workshops.

Dr. Benton is a member of SLAMTA, MMTA, MTNA, National Guild of Piano Teachers, the Handbell Association of Greater St. Louis and the Handbell Musicians of America. She is a Past President of the St. Louis Area Music Teachers Association (SLAMTA) and the Missouri Music Teachers Association (MMTA). She has also served as the Missouri State Chair for the Handbell Musicians of America.

Cathy Benton has a Bachelor of Music Education degree from Murray State University, a Master of Music degree in Piano Performance from Webster University, and the Doctor of Musical Arts degree in piano performance from UMKC.
Members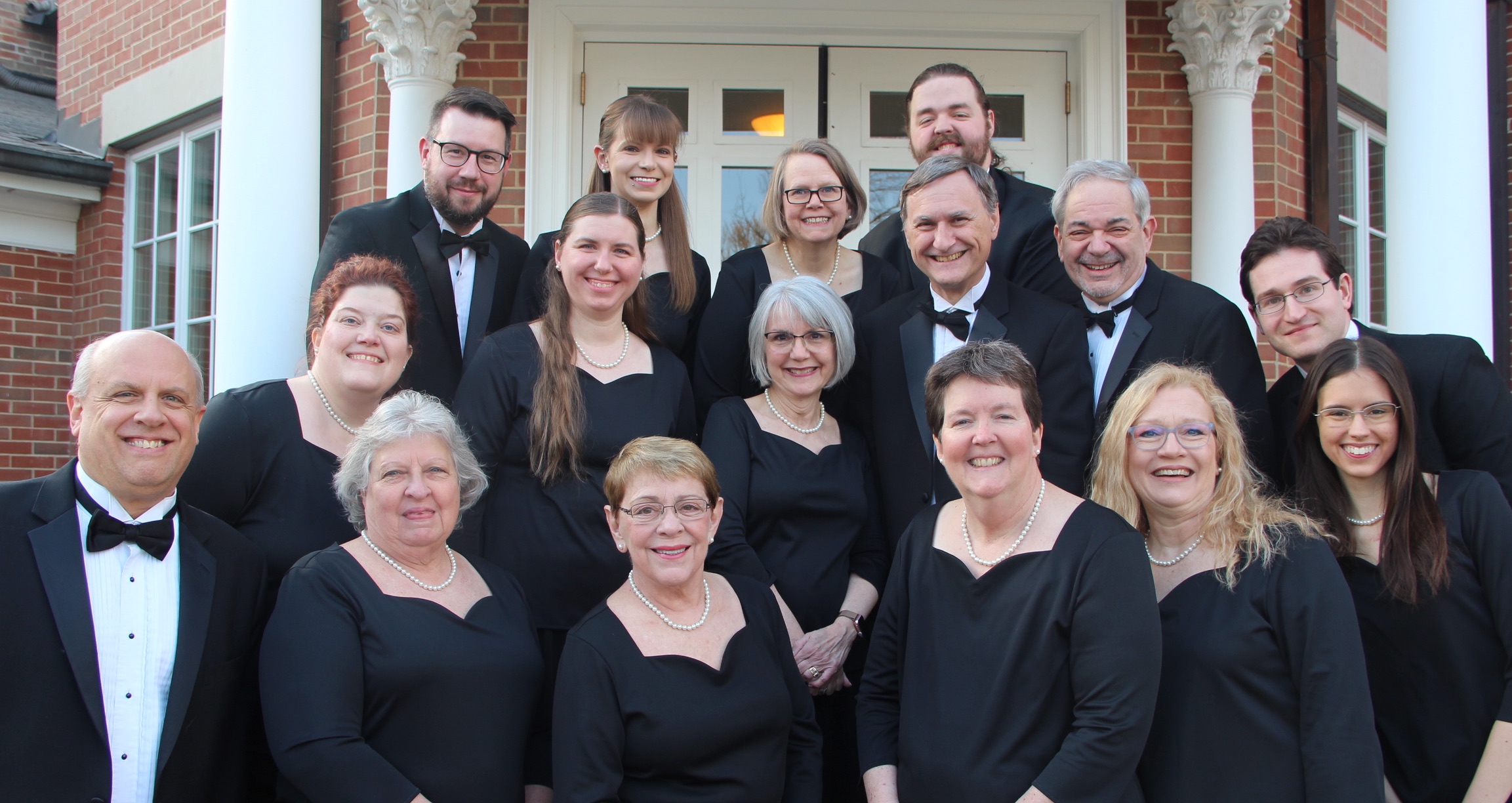 Mouseover to see who's who; click to jump to biography.
Current Members
(♩ indicates charter members)
♩ Kim Amos is a charter member of the Gateway Ringers. She has been ringing bells since 1981 and has rung in groups in Missouri, Illinois, Tennessee, and Germany. Kim is a retired doula (professional labor and birth support) and childbirth educator. She is married to Chris, has two children, Sarah and Bryan, a son-in-law, Bryan, a daughter-in-law, Tess, and grandsons Thomas, Liam, Declan, and Thad. Kim is currently serving as Secretary on Gateway's Executive Committee.
♩ Andy Eversole has been ringing handbells since 1990 and is a charter member of the group. His musical family includes his wife, Patty, a Suzuki piano teacher, and three children and grand two grandchildren. Andy daylights as an electrical engineer at Boeing. Andy is currently serving as President on Gateway's Executive Committee.
Tim Forbis joined Gateway Ringers in 2010 but has been ringing bells with Kirkwood Baptist Church since 1995. He is Chemical Engineer and works at Emerson. He has been married to wife Christine for 8 years and has three daughters: Josephine, Magnolia, and Susanna. Tim is currently serving as Member-at-Large on Gateway's Executive Committee.
Mopsi Hanley joined us in January, 2008. Mopsi is a retired CPA. She started ringing bells as a charter member of St. Martin's Episcopal Church handbell choir in 2002. She is married to Jack. They have two daughters and four grandchildren. And no, "Mopsi" isn't her given name. It's Martha Anne.
Ian Harrier started ringing handbells in third grade in a church choir under the direction of his father. They continue to ring together to this day! He joined Gateway Ringers in 2021 at the recruitment of his wife, Kaitlyn. In addition to his work in IT, Ian has a love of audio engineering.
Kaitlyn Harrier began ringing in a children's tone chime choir at church over 20 years ago and joined Gateway in 2012. Her now-husband, Ian, first caught her attention because of his shared interest in handbells, and now they've loved getting to ring together with Gateway Ringers since 2021!
Carla Hoppe joined Gateway in January 2010. Carla is currently searching the wilds of St. Louis for her biography. If you've seen it, contact us at Carla's Lost and Found.
Trish Jackson has been ringing with the Gateway Ringers for about 10 years and in church handbell groups for about 20 years. Trish holds a BA degree in education with a minor in Music. She currently works at Claymont Elementary school. In addition to playing handbells, Trish loves reading, puzzles, and spending as much time as she can with her children and especially her grandchildren.
June Jones officially joined in January 2006. She is music director at St. Thomas UCC in Chesterfield. June works at St. John's Mercy Medical Center, is married to Craig, and has a daughter Molly and a son Tim.
Ruth McDonnell joined us in the fall of 2007. Ruth is a deaconess in The Lutheran Church—Missouri Synod and teaches religion and music at Salem Lutheran School in Affton, MO. She has a PhD and a master's degree in theology from Concordia Seminary, St. Louis and a bachelor's degree in music education from James Madison University in Virginia. As member of the Handbell Musicians of America, she has served on national and area boards. Ruth was a founding member of the Magic of Bronze, a community handbell choir in Orlando, which she directed until moving to St. Louis in 2003. Ruth has taught handbell techniques and conducting at numerous workshops and has conducted massed ringing at festivals. She is also an avid solo ringer and flutist.
Amanda Morgan joined us in January 2008. She currently works at AT&T. Amanda has been ringing handbells since the early 1990s for several different groups, and is currently ringing with St. Paul's United Church of Christ. When she's not working or ringing she loves spoiling her two cats.
Gabe Murphy began ringing handbells in his sophomore year of college with the MBU ringers at Missouri Baptist University. He later graduated with a Bachelors of Music Education and began teaching music, currently in the Fort Zumwalt School District. He joined the Gateway Ringers in January of 2023. He enjoys serving in his church by playing piano on the worship team and helping in the nursery.
Angela Ohmie joined us in 2016. She graduated from Concordia River Forest and has taught 2nd–4th grades and music. She previously rang with the Kansas City handbell ensemble Rezound! Angela works as valet coordinator and team lead for a kid's consignment sale, helps people simplify cleaning with Norwex, and is an organist for her church. In her "free time" she enjoys watching movies and playing games and music with her husband and their four daughters.
Diane Stout began ringing handbells in her church in 1987 and joined Gateway in January 2004. She recently retired from her job as an administrative assistant and is now enjoying spending more time with her husband, three children, and five grandchildren. Diane is currently serving as Vice President on Gateway's Executive Committee.
Lindsey Weidner graduated from Concordia University Nebraska with a Bachelors in Music Education and is where she met her husband. She played handbells throughout her time there, even conducting a local church handbell choir. She taught music in Alaska for seven years. There she taught preschool through 8th grade general music and handbells to the 7th and 8th graders. She currently teaches middle school math and science, but also sings in her church's praise team. Lindsey joined the Gateway Ringers in 2023.
Jeff White joined the Gateway Ringers in 1999, and is the Minister of Music and Organist at Trinity Lutheran Church, located in the historic Soulard neighborhood of St. Louis. He holds a Master of Church Music degree with an emphasis in Organ from Concordia University Wisconsin. Jeff joined the handbell choir at his church while in high school around 1983, and he has conducted church handbell choirs since 1986. Jeff has composed music for handbells which have been published by From the Top Music. During the day, Jeff is a lead BizOps engineer at Mastercard. Jeff is currently serving as Member-at-Large on Gateway's Executive Committee.
Would you or someone you know like to be a Gateway Ringer? Find out the membership requirements here.
Past Directors
| Wim Blees (1995–1997) | Mark W. Lawson (1997–2003) | Nancy Helmich (2004–2007) |
| --- | --- | --- |
| | Chuck Peery (2008–2018) | |
Past Members
| Curtis Armstrong | Laurel Bales | Marcia Barber |
| --- | --- | --- |
| Dolan Bayless | Beth Beattie | ♩ Jan Blees |
| ♩ Wim Blees (Founder) | Peter Dahlstrom | Jill Dean |
| Jan Ebeler | Kevin Gale | Hellen Gillespie |
| Kevon Hall | Marcia Hansen | Cynthia Harris |
| Don Hayman | ♩ Janice Hitchcock | ♩ Sally Johnson |
| ♩ Karl Kay | ♩ Dub Koon | Andrew Larson |
| Ginny Lawson | Kit LaMar | Peggy "Carillon" Lohnes |
| Julia Matthews | Jason McGinnis | Karen Mild |
| Anne Miller | Lisa Mueller | ♩ Allison Nalesnik |
| Sue Nielsen | ♩ Georgia O'Brien | ♩ Candy Parson |
| Janet Petersen | Michelle Robbins | Karen Rolland |
| Wendy Shaw | Donna Skeen | Andrea Stramler |
| Kelly Stohl | ✝ Joyce Suttle ✝ | Laurie Underwood |
| Steve Upton | Crystal Wagner | Bruce Walker |
| Tim Way | ♩ Marcia Worcester | ♩ Carl Zimmerman |
| | Gurney the Gateway Chicken | |